Every child needs alone time
With us living weeks of solitude due to COVID-19, most of us agree to say isolation can be a blessing as well as a curse. In fact, few might be afraid of solitude associating with loneliness. Yet we dare say, every child needs alone time.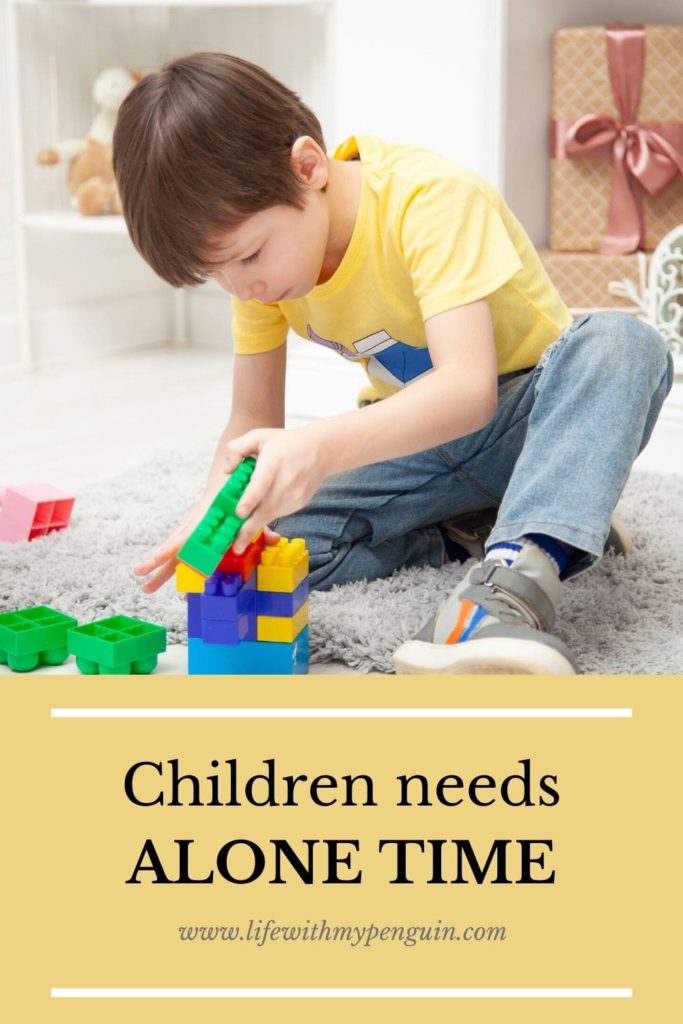 On one hand, loneliness makes us feel empty, void, and vulnerable. While solitude is the state of being alone but not lonely. It's a relaxed and satisfied state of engagement with one's self.
If you ever watch children play alone closely, they seem happy and ignorant of the concept of isolation.
As parents, most of us, almost, are obsessed with filling up our children's time. In Pre-COVID19 days there used to be after-school activity classes, camps, lessons, we urge to plan activities all day.  Now COVID-schooling, and online camps. What largely forgotten is the schedule is time spent alone, the child's alone time, the child's ME time.
Just like us adults, a child also needs space and time to unwind his/her entire day. This time is quite productive and needful for children's mental wellbeing. It gives them a way to relax during an action-filled day.
What is a child's alone time?
The amount of time children spends in uninterrupted self-directed play when no one is instructing them when they are free to choose what and how to play.
Self-directed play can be active (running around the playground), quiet (reading at a book or playing with a doll), or a combination (trying on parent's shoes and trying to walk in them). 
Mildred Parten's stage theory describes the ways children collaborate with each other. During solitary independent play, children play alone with toys without interacting with anyone thought they are near. This is a crucial aspect of the development of independence and competence.
A quiet mind is a fertile ground for budding new ideas and creativity. Solitude is essential for all kids to renew their spirits when they're worn out from too many stimuli. We need to value quiet time and solo play just as much as we value social engagements.
Studies show that children who know how to spend their time alone seldom feel lonely. Instead, they learn to be satisfied with whatever situation they face. Even have fun in that moment in creative way.
Benefits of child's alone time
Are you worried about no playdates or no park time? And even wonder if that would lead to a dull child or too much of screen exposure, especially during this quarantine period.
A child who is comfortable playing alone knows how to stay happy and engaged without depending on others. They would grow up as teens who would understand that others need space and they don't need anyone next to them every waking moment.
A young child depends on parents and family to express their emotions. While playing alone slash solo teaches them self-soothing. They grow more inquisitive in their own environment and become problem solvers. Even express their needs and wants in clear communication.
Once Walt Streightiff had mentioned "There are no seven wonders of the world in the eyes of a child. There are seven million." The words hold true, we as parents just have to step back and let them play themselves. This time alone will draw out heroes fighting against monsters, princesses creating magical worlds, pirates, and many other characters. They'll be quick to think on their feet.
Develops social independence
While having fun filled and busy social days is healthy thing, but if a person is uncomfortable to spend a weekend alone, then he/she is needs to develop independence, social independence. The alone time of child spend playing with toys or reading a book or making a craft gives them comfort to accept the quite surrounding. Growing up as individuals, these kids won't sway easily by others opinion. They can be comfortable in own's space without feeling BORED.
Let's accept this parenting 24 X 7 can be draining. Parenting is not all about giggles, laughter, and cuddles. It also has physical and emotional tiredness, carving for a quick coffee break, desire to be left alone in loo without constant banging. Also, there are other sets of home and work responsibilities that parents carry on shoulders.
Related – The village to raise a child is missing
How to add a child's alone or ME time in daily life?
Encouraging a child to play alone nurtures a more "inquisitive, confident, and self-reliant kid." It is time for skill development.
In the solo play, a child can explore the environment at their own pace, focus their attention, and learn from his failure.
As the child grows, he/she would be able to play alone for a longer time. For example, 6 months olds, may be happy by themself for 5 minutes; by 12 months age, for 15 minutes; soon by 18 months, for 15 – 20 minutes; and at 2 years, for about half an hour.
It also depends on the child's temperament. A laid-back easy-going child may be more willing to play on his own at a younger age than a feisty, challenging one.
To encourage your child's invested in solo play, establish a routine "alone time" period. Put the child in a small childproofed play area and offer a few of the favorite toys or books. Involve the child in reading or play. Slowly leave the space and let the child explore alone.
As a parent/caregiver, it might be challenging to resist the urge to jump in when the child is frustrated midway solving a problem. Hang in there, the solitary play or solo play practice would benefit both the child and parent.
Babies under 1 can't be left completely alone. So, you can watch them for a few feet away, keep offering the child soothing words to show your presence. It would give them a sense of security. With time increase the distance and watch from a further distance or another room.
Would child immediately stay engage in the solo play? NO. It would take time and practice. Hence need to be done daily.
Now few might ponder, what if the child leaves playing or reading as soon as the parent leave the spot? Probably, you have to keep shuttling then. Play with them for say 5 minutes, then walk away for some time, return once they ask for you, or leave the play area. Returning back to them assure them of you being at a reachable distance and understand you are nearby. The separation anxiety that the child might face as you leave can also be dealt with here. Make a pattern for a few days. Eventually, things would work out and children would be more involved in the play, even the shuttling would reduce.
Why are we talking about the child's "alone time"?
The importance of resilience in children's life can never be ignored. Resilient people develop coping mechanisms and independence for life challenges. Resilience and alone time can be intertwined. As a child grows into a tween, teen, and later adult life, his/her social circle would grow in the real and virtual worlds. Yet, studies state that despite huge social life people do tend to feel lonely.
If the child has been equipped with the power of being comfortable alone early in life and even branch out a bit during later stages. Then they can adopt a hobby, of cooking, playing music, reading, creating a project, etc without depending entirely on social connections and feeling void if left alone.
Ideas for children's "ME time" without screen
Ball play
Tree climbing
Dancing
Musical instrument
Exercise
Sensory play – like water play, digging sand, etc
Nature walk
Sidewalk chalk art
Arts and crafts project
Reading books
Bird watching
Gardening
How often have you heard your child saying I'm bored, mom? Perhaps you can try giving your child the much underappreciated alone time now.
Picture credit –  Victoria Borodinova from Pexels