Hats, Hoods and Humiliation by Hiranya Verma: A book review
Do you remember your tween days? Or if you are already a parent raising 9-12-year olds, you are reliving your tween days with an upgrade. Upgrade, as our lives are constantly changing add in all globalization jargon of the shirking world. What goes inside the pretty amazing brain of kids of this age group? They are no longer our little girl or boy. They are going independent yet depend on us. Tweens are transitioning into a teenager, changes are physical, emotional, and social. Thinking of all that, how about we peep into the perception of a girl, who attempts to share a slice of her thoughts in a book – Hats, Hoods and Humiliation by Hiranya Verma.
Book title: Hats, Hoods and Humiliation
Author: Hiranya Verma
Genre: Non-fiction | Self- help | Children's book
Get your copy: Kindle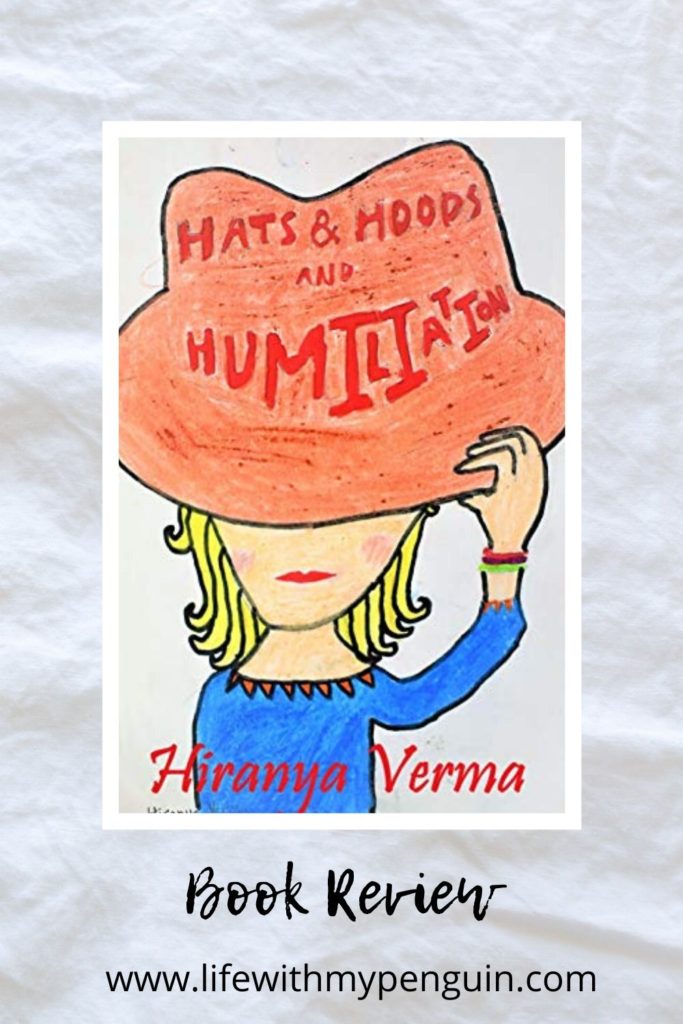 An interesting book to share with your tweens and teens. Read on my take as I share my review of the book now.
What is "Hats, Hoods and Humiliation" about?
Can you guess what's inside the book? Well try, with the pretty book cover and title. Okay, I got your back.
The author is 10 years old little lady who shares upfront dilemmas and challenges that she and kids of her age face and some workable solutions. Coming from a kid of this age the words are full of wisdom. Her emotional intelligence does reflect in her way of narration. In 7 chapters, she covers everyday emotions to balancing them. While emotion is a one-word term, but handling- reflecting and working on them is a lifetime experience.
A pat on back for the little author for summarizing the takeaways from each chapter with some points to ponder.
What I liked about the book?
Written from a tween point of view, this book is not restricted to childhood likes, dislikes or memories of vacation. The author has worked on exploring inner self with each challenge she faced and ways to handle them without burnout. While one might underestimate the book noticing that author is young, the wealth of wisdom she shares is quite a spectrum. A line that stands out for me was, "You don't need to fit in because you stand out".
The title. The school going kids often encounters situations that leave them red-faced, be it their talks or bully or score. They might like to escape form scene or remain invisible for a while. Sticking with the bad experience never helps to move on. So, give it a shake and laughter as you take next step. All this insight is wrapped in the book.
This is NOT a preteen guide. And yes, that's a pros. If it had been another book that would preach, the young reader might not be able to grasp it. As the words are narrated in simple easy way, the reader can co relate instances with their own life.
Can this book be read by adults? YES! Parents and caregivers shouldn't miss a chance to peep into the world of children. Though kids might be close with parents yet there might be some emotions that adults might miss out. Remember we lived that school life probably multidecade ago, generation gap.
Also, the drawings in each chapter add a charm to the book.
You might like to read - Flyaway boy
What I missed in the book?  
Honestly, I'm wonderstruck. I am eager to know if she already started working on her next book. Surely, I would have liked to read about tween power.  Once you overcome the humiliations, equipoise your emotions how to discovering the strength within you could have been covered. Yet the book coming from the balanced mind of a 10 years old it would be a lot to expect.
Rating: 4 stars upon 5
---
Disclaimer: This post might contain affiliate links. These links provide me with a small percentage commission at no extra cost to you. For more information read the disclosure.
I have received this book to review, but the views are my own.